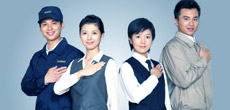 Contact person: Alan
Telephone: 0755-23069425
Website: www.eceuta.com
Q Q: 528646316
TELL:13316501082
Company profile
Release date:2016-01-13
Shenzhen century future numerical control co., LTD is the earliest engaged in automatic control system research and development of China one of the large-scale professional enterprises, long-term commitment to KBC carved leopard product research and development and production of carved leopard product innovation in the field of numerical control and automation equipment, has formed a carving machine, engraving machine and other core products and business.
After years of development, through the cooperation with world famous advertising manufacturers, software vendors, the company has formed a complete series of equipment manufacturing system, have their own independent research and development team, core technology and independent intellectual property rights, and has passed the CE, and other international certification, carved leopard carving machine engraving machine is widely used in advertising, advertising, clothing, diatom mud wall posts, furniture, car, etc.
KBC carved leopard products will continue to progress in technology, products, services and applications and so on various aspects, to support, to meet customer facing the continuous change of market demand.