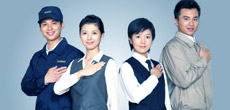 Contact person: Alan
Telephone: 0755-23069425
Website: www.eceuta.com
Q Q: 528646316
TELL:13316501082
The difference between the CNC engraving machine and CNC milling machine
Release date:2016-01-13
The difference between the CNC engraving machine and CNC milling machine
CNC woodworking engraving machine in domestic development has thousands of years of history, related processing factory and use the unit now aware of the movements. As a user, we are going to choose the right equipment, if improper selection, not only will not be able to make money, and make the enterprise into the embarrassing situation, mountain ups.
Engraving machine English full name for the CNC engraving ande milling machine, strictly speaking is part of the milling, carving machine or purchase nc milling machining center is an issue we often face.
The first thing to make clear the difference between model:
1, CNC milling machine and machining center used to complete large milling amount of processing the product
2, engraving machine for small quantity or light metal milling machining
From the point of view of numerical control system adopted in the machine tool
1, CNC milling machine and machining center: to the requirement of numerical control system is stable and reliable, operation, convenient maintenance and so on, now in the market of CNC system are mainly concentrated in FANUC and MITISUBISH and Siemens controller, individual European equipment has Hyde sea due to the controller
2, carving machine, most of them adopt independent research and development of the enterprise or outsourcing of industrial controller.
From all the shaft power and spindle speed of machine tools
1, CNC milling machine and machining center of the shaft power is larger, the spindle power also is bigger, the spindle taper shank about 30, 40, 50 or so, and it is the foreign machine adopts HSK forms of 20 taper shank taper shank or smaller. Can meet the general processes such as milling and drilling tapping. Spindle speed is in commonly 8000 RPM, has adopted, in the form of motorized spindle speed can reach 20000-60000 RPM, but the corresponding price also is quite high.
2, most of the engraving machine use small power motor, the spindle speed is faster, about to around 30000 RPM, the biggest tool can only around 10 mm in diameter.
To sum up:
In most of the engraving machine engraving industry use, some have made such a machine tool, mould industry is convenient to carve patterns or designs on woodwork and lettering on material, carving machine, milling cutting quantity are small.
Most machining center used in mechanical processing industry, mould industry has the equipment, precision parts processing and small batch more varieties of machine tool processing also has use this kind of machine tool.
So when choose machine tool, first to locate your own products, according to the product to choose suitable products.