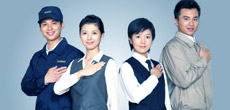 Contact person: Alan
Telephone: 0755-23069425
Website: www.eceuta.com
Q Q: 528646316
TELL:13316501082
Laser engraving technology applied in the cloth embroidered
Release date:2016-01-13
Laser engraving technology applied in the cloth embroidered
Laser embroidered its working principle is through the launch of the high intensity of laser, laser is controlled by advanced vibrating mirror its trajectory, carve patterns or designs on woodwork drill on all kinds of cloth fabrics, to create fashion, trend-setting effect. With the effect of embroidery machine embroidery has a different nature.
First of all, from the point of design on the vision, embroidery machine is the curious compose of different color line on the surface of the textile fabrics, the color piece design. And "laser embroiders" is processed according to the impression of textile fabrics. Through the layered method, laser control system on the same color fabric "embroider" fabric shades in the background, with the transition of administrative color, this is natural in the fabric color transition color, is any designer can allocate, has a unique, natural and plain style.
Second, from the performance form, limited by embroidery machine because of its working characteristics of single article elaborate, large-format pattern cannot be expressed in a row. And "laser embroidered" because of its thin light beam, high speed, and can be carved in a row, so just complements embroidery machine. This summer just popular laser hollow out graphics couture, use laser perforation way of graphics has a direct effect, while the processing unit price are increased to 10 to 20 yuan, but it's still in short supply. Fashion products must have a new idea to pop. At present, we also apply this technology to the cowboy processing industry, on the fabric to make images, flower shape, the cat must be a variety of effects, such as laser bleaching with high efficiency, energy saving, no pollution and other advantages, believe in the near future will gradually replace the cowboy sandblast this process.
In the process of application in laser cutting, embroidery patch embroidered blanking is shifted from traditional way of die cutter blanking to easy to control in the design of laser cutting blanking. Compared with laser cutting blanking die cutter blanking, with fine, incision without boundary, design any advantages of the output. But single head laser cutting blanking cannot fully meet the production requirements of large-scale embroidery factory, so our company early launched long efficient laser engraving machine with patent protection. It can not only small wide batch cutting blanking, also can carry on the work piece processing large-format, applicability is quite strong. In the trademark manufacture industry, border laser cutting technology is gradually replacing the traditional manual eager processing way, say, the market prospect of the laser applications in the textile industry is limited, so to speak.